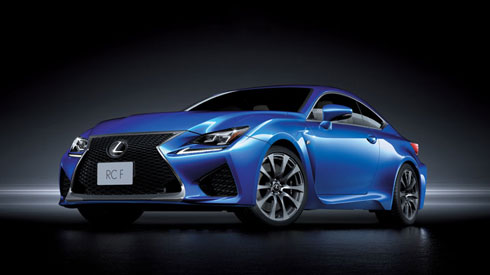 Design
The RC F fuses the eye-catching lines of coupe styling with an aggressive attitude, every form and component honed by the no-compromises functionality of a race-bred sports car. Face on, this functionality shapes the dynamic double spindle design that integrates cooling ducts in the signature Lexus 'spindle grille' and outer front bumper to channel the flow of air. They are matched by cooling outlets in the center bulge of the hood and integrated into the rear of the front fenders. From the side, the muscular hood silhouette hints at the V8 power within. The continuous flow from the front fender through the beltline highlights the beauty of the coupe styling, and projects forward momentum in a sharp expression of pure "F" performance. Dramatic 19-inch forged aluminum wheels reinforce the low wide stance and powerful sporting presence.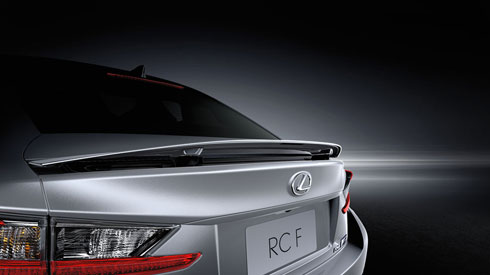 Overview
Engineered from the asphalt up, the RC F is a bold expression of the F philosophy, built for uncompromising performance. The RC F is conceived as a next generation expression of Lexus "F" values, a race-bred approach to the future of sports driving pleasure. Its creation integrated 3 core attributes: the tuning and technology of the LFA supercar; a deepening of the three elements of "F" driving fun; and an emotional and enthralling driving experience. It deepens the core elements of "F" driving fun, defined as 'Response', 'Sound' and 'Limitless Power Feel', in its riveting race track-ready performance.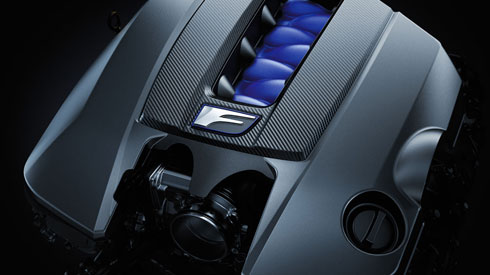 Performance
5.0-liter V8 engine The 5.0-liter V8 engine generates a dynamic feeling of limitless acceleration for sensational sports car driving, together with the powerful output and excellent response characteristic of a naturally aspirated engine. It integrates advanced VVT-iE for outstanding fuel economy, power and responsiveness. Though it is race ready, the engine's D-4S and Atkinson Cycle contribute to excellent fuel efficiency.1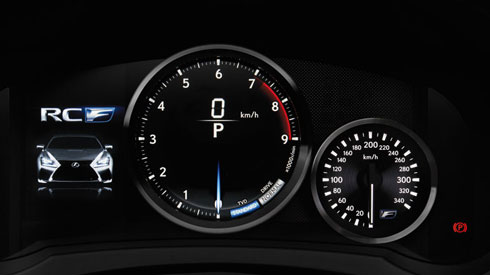 Features
The "F" driving experience is communicated by the large central color TFT (Thin Film Transistor) tachometer, enclosed in a large-diameter ring machined from aluminum with a stainless steel finish that gives a deep metal luster. The design of the tachometer and the content it displays change with the drive mode selected, enhancing visibility and usability. The position of the information, and the size of fonts and indicators displayed were all fine-tuned to provide quick confirmation of vehicle performance in a glance.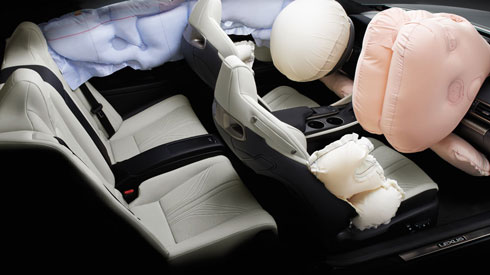 Safety
To help reduce the impact to occupants in a collision, the RC F is equipped with eight SRS airbags; dual-stage SRS airbags, SRS knee airbags and SRS side airbags for the front seats, and SRS curtain shield airbags for the door windows.