Dynamic radar cruise control
In addition to maintaining a constant speed, dynamic radar cruise control uses the millimeter-wave radar to detect a vehicle driving ahead and maintain an appropriate distance between vehicles.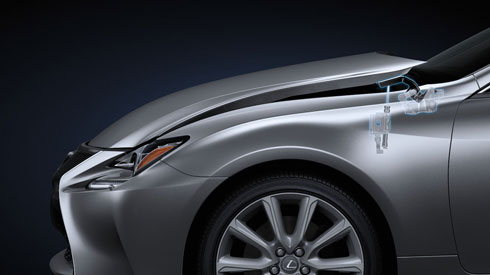 PUH (Pop Up Hood)
When sensors in the front bumper determine that the vehicle has collided with a pedestrian, the hood instantly pops up to create a space to absorb the impact force, contributing to pedestrian protection as well as enabling the sleek coupe styling.
LDA (Lane Departure Alert) and AHB (Automatic High Beam System)
LDA alerts the driver with a buzzer and on the multi-information display if the system judges the vehicle is about to cross the lane markings without using the turn signals. AHB helps safe driving at night by instantly switching from high to low beam when the lights of an oncoming vehicle, or the tail lights of a vehicle in front, are detected.
Pre-crash safety system
When the millimeter-wave radar detects a collision ahead is likely, it alerts the driver and activates pre-crash brake assist when the driver depresses the brake pedal. If it determines a collision is difficult to avoid, the pre-crash brakes and pre-crash seat belts also operate.
Blind Spot Monitor System
When the quasi-millimeter-wave radars in the rear bumper detect vehicles in adjacent lanes that aren't visible in the door mirrors, the system activates a warning indicator in the relevant door mirror the moment a vehicle enters this blind spot.
RCTA (Rear Cross Traffic Alert)
To assist safe reversing, RCTA uses quasi-millimeter-wave radars in the rear bumper to detect approaching vehicles in difficult-to-see areas behind the vehicle. When an approaching vehicle is detected, RCTA alerts the driver using a buzzer and indicator in the relevant door mirror.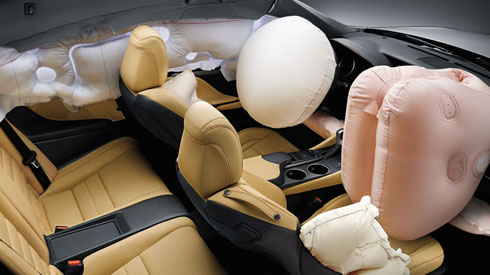 SRS airbags
To help reduce the impact to occupants in a collision, the RC is equipped with eight SRS airbags; dual-stage SRS airbags, SRS knee airbags and SRS side airbags for the front seats, and SRS curtain shield airbags for the door windows.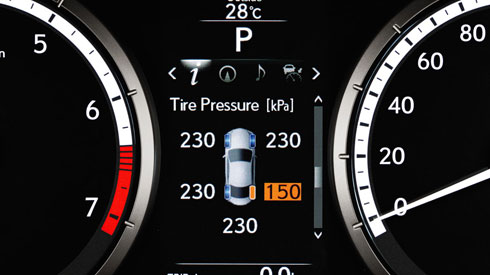 AL-TPWS (Auto Location-Tire Pressure Warning System)
AL-TPWS contributes to tire life and fuel efficiency by displaying the pressure of each tire in the multi-information display. When low tire pressure is detected, the display shows the air pressure value of the affected tire in amber, together with an in-meter warning lamp.