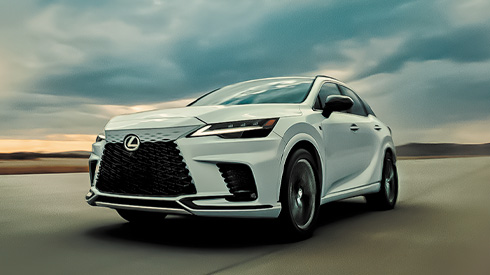 RX 500h F Sport Performance
Lexus aims to push the evolution of fundamental performance using electrification technology, providing customers with the joy and exhilaration of driving. The RX features DIRECT4 that works in conjunction with a new HEV system designed to enhance the driving experience. Precise all-wheel drive control maximizes the grip of the front and rear wheels, while also providing posture control to deliver an exhilarating driving experience. The F SPORT Performance is a performance model that takes the existing F SPORT one step further by offering an enhanced powertrain.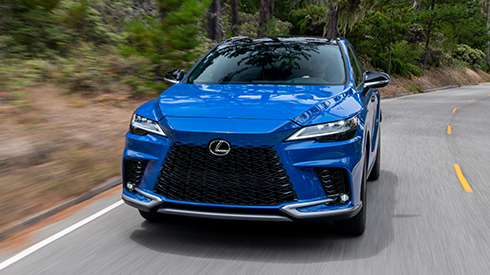 F Sport
The RX350 offers distinctive F Sport features that accelerate the desire to drive. The F Sport Kit includes a seamless grille (mesh type)/side grille (mesh type), black roof rail, F Sport emblem, body colored front bumper side molding (silver paint), aluminum wheels, piano black painted door mirror, rear lower bumper/rear bumper molding (silver paint). The interior includes dimpled leather steering wheel with paddle shifters, dimpled leather shift knob, aluminum sport pedals and footrest, leather sport seats & F Sport emblem.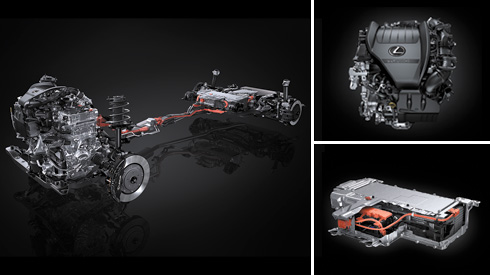 HEV (Hybrid Electric Vehicle) System
2.4L-T HEV on the RX500h features a front unit integrating a 2.4L turbocharged engine, motor, a 6-speed automatic transmission and an eAxle with a built-in high-output motor driving the rear wheels, and a high-power bipolar nickel-metal hydride battery under the rear seats. This system harnesses the powerful torque of the turbocharged engine and the quick response of the motor torque to provide a direct, torque-filled, and continuous acceleration feel. In addition, the 6-speed AT uses a wet start clutch in place of a torque converter, offering a rhythmic and responsive shift feel. Furthermore, the transaxle uses a built-in clutch to separate the engine and motor, allowing them to be used independently or together depending on driving conditions.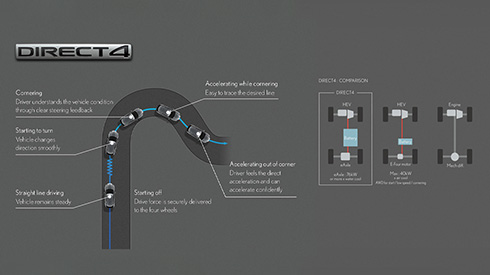 DIRECT4
DIRECT4's drive force control uses information collected from wheel speed, acceleration, and steering angle sensors to help optimize the drive force distribution ratio of the front and rear wheels between 100:0 and 20:80 (front wheels: rear wheels), contributing to enhanced start-up acceleration, handling stability, and fuel economy. When accelerating from a standstill or in a straight line, the system controls vehicle pitch to provide a direct acceleration feel. When cornering, the system controls drive force distribution according to driving conditions, contributing to excellent handling stability, as well as an exhilarating performance that allows the vehicle to turn smoothly.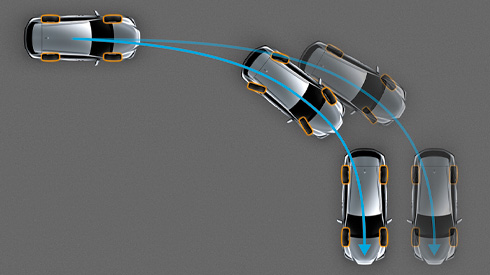 DRS (Dynamic Rear Steering)
DRS steers the rear wheels up to four degrees in the same or opposite direction as the front wheels, depending on vehicle speed. At low speeds, the system provides excellent turning and maneuverability during cornering, while a high level of vehicle stability is provided in high-speed ranges.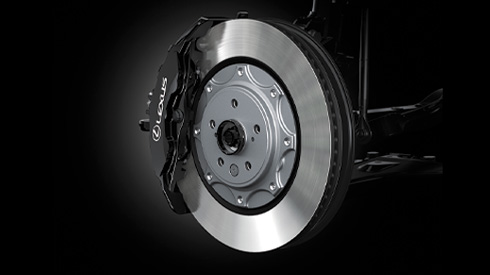 Brakes / Tyres
Further refining the Lexus Driving Signature, aluminum monoblock opposed six-piston brake calipers are used for the front brakes to provide a linear and direct brake feel. Together with exclusive 21-inch wheels, exclusive tyres enhance ride comfort and quietness worthy of Lexus DNA, as well as improve grip and limit performance.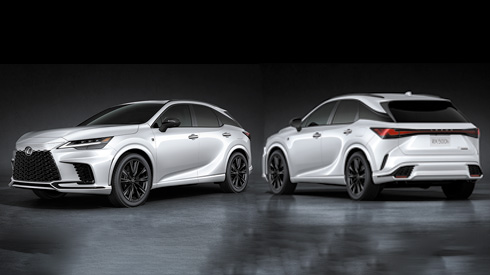 F Sport Exterior
The F Sport Exterior includes a seamless grille (mesh type) / side grille (mesh type), F Sport emblem, piano black paint door mirror, Body-coloured front lower bumper molding, Body-coloured front bumper side molding, Body-coloured rocker molding, Aluminum wheels (matte black paint), door window frame molding and rear bumper molding.