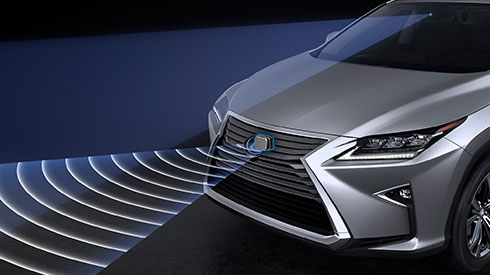 Pre-Collision System
When the millimeter-wave radar and monocular camera sensors detect a vehicle ahead, a pedestrian during the day or at night, or a cyclist during the day*1 and determine that a collision is likely, it alerts the driver and activates pre-collision brake assist when the driver depresses the brake pedal. If the driver cannot depress the brake pedal, it activates the pre-collision brake to help avoid a collision or mitigate the impact force.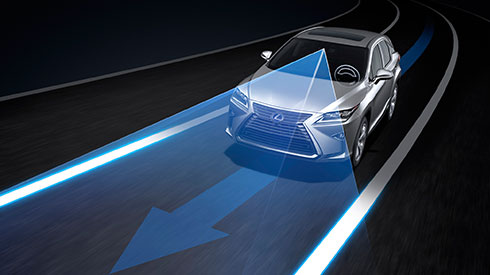 LTA (Lane Tracing Assist)
When Lane Tracing Assist is activated, it alerts the driver of possible lane or road deviations and helps assist steering to avoid them. In addition, while driving on highways and automobile-only roads with Dynamic Radar Cruise Control (with full speed range) activated, it helps assist steering to keep the vehicle in the lane.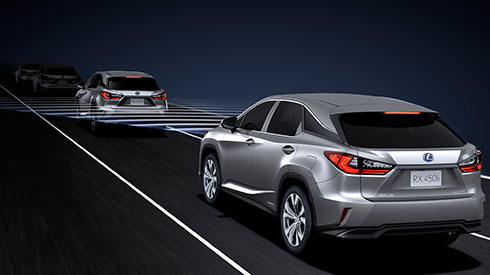 Dynamic Radar Cruise Control
In addition to maintaining a constant speed, Dynamic Radar Cruise Control uses the radar and camera sensors to detect a vehicle driving ahead and maintain an appropriate distance between vehicles at all speeds.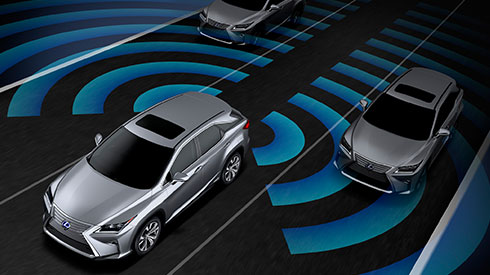 Blind Spot Monitor System
When the quasi-millimeter-wave radars in the rear bumper detect vehicles in adjacent lanes that aren't visible in the door mirrors, the system activates a warning indicator in the relevant door mirror the moment a vehicle enters this blind spot.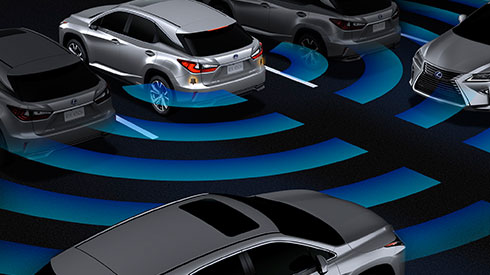 RCTA (Rear Cross Traffic Alert)
To assist safe reversing, RCTA uses quasi-millimeter-wave radars in the rear bumper to detect approaching vehicles in difficult-to-see areas behind the vehicle. When an approaching vehicle is detected, RCTA alerts the driver using a buzzer and indicator in the relevant door mirror.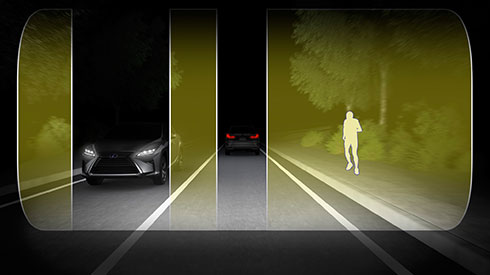 AHS (Adaptive High-beam System)
When the system detects a vehicle in front, it disables/enables 11 independent LEDs in each headlamp to optimize light distribution, so that the high beams do not directly illuminate preceding or oncoming vehicles when driving at night. While AHS is activated, the low beams are always on.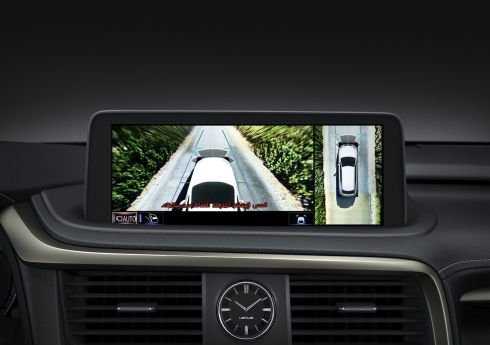 Panoramic view monitor
To help check the surroundings, the system shows a bird's-eye view of the vehicle on the EMV display, using a composite image taken by cameras mounted on the front, sides, and rear of the vehicle. In addition, a see-through view provides an image as seen through the body, and enables a specific point to be selected and enlarged for a more careful check.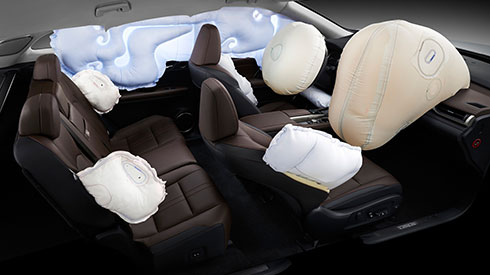 SRS airbags
The RX features dual-stage SRS airbags (Front seats), SRS knee airbag (Driver's seat), SRS cushion airbag (Front passenger's seat) that supports seatbelt restraint by lifting the front edge of the seat cushion during a frontal collision, SRS side airbags (Front and outboard rear seats), and SRS curtain shield airbags (Front and rear door windows).