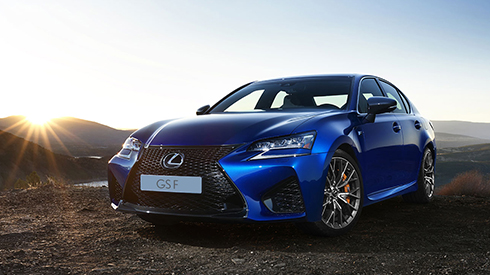 Overview
The GS F is a bold expression of the F philosophy, built for uncompromising performance. The development of the GS F injected a race-bred approach to sports driving pleasure into a premium sports sedan, by deepening the three elements of "F" driving fun defined as 'Response', 'Sound' and 'Limitless Power Feel'. In its future-focused expression of "F", the GS F evolves the technology and know-how embedded in "F" DNA, and blends them with the sophisticated refinement worthy of a premium sports sedan.
Design
The GS F fuses leading-edge Lexus design with "F" DNA in a fresh expression of "F heritage and evolution". An intense focus on creating a functional beauty worthy of a premium sports sedan shaped an exterior that enhances aerodynamics and cooling performance, informed the selection of materials including carbon fiber and aluminum, and integrates iconic "F" design elements.
Performance
The powerful output and excellent response characteristics of the naturally aspirated 5.0-liter V8 engine generate a feeling of limitless acceleration and uninterrupted sports car driving pleasure each time you get behind the wheel.
Features
The "F" driving experience is communicated by the large central color TFT (Thin Film Transistor) tachometer, enclosed in a large-diameter ring machined from aluminum with a stainless steel finish that gives a deep metal luster.
Safety
When the millimetre-wave radar and monocular camera detect a collision with a vehicle ahead is likely, it alerts the driver using a buzzer and on the multi-information display, and activates pre-crash brake assist when the driver depresses the brake pedal. If the driver cannot depress the brake pedal, then it activates the pre-crash brakes to help avoid a collision or mitigate the impact force.