Lexus Hybrid Electric Vehicles
Rewriting the rules of the road
* Vehicle shown for presentation purpose only and may not reflect Middle East region-specific specification availability.
THE POWER OF h
Longer Mileage. Smoothness. Quietness. Ecology.
These benefits are at the core of every Lexus Hybrid Electric Vehicle (HEV).
Feel a rush of excitement with the push of a pedal and superior comfort in any situation.
Awaken your driving passion and take control of the road ahead.
That's The Power of h. - Rewriting the rules of the road.
Lexus:
Leading hybrid electric vehicle luxury.
Lexus is the world's favorite luxury hybrid brand, having eclipsed the milestone of 2 million global sales of electrified vehicles. Since 2005, Lexus electrified vehicles have contributed to a cumulative reduction in CO2 emissions of approximately 19 million tons. This reduction is equivalent to the combined CO2 output of approximately 300,000 passenger cars each year for the past 15 years. Lexus will continue to lead the steady growth of electrified vehicles and the reduction of CO2 emissions in line with our corporate mission of carbon neutrality and Sustainable Development Goals. The luxury brand now sells nine models of electrified vehicles, including Hybrid Electric Vehicles (HEVs) and Battery Electric Vehicles (BEVs), in approximately 90 countries and regions around the world. By utilizing the electrification technologies such as motors, inverters, and batteries, Lexus aims to create new value and driving experience unique to Lexus electrified vehicles.
Dual power.
Superior performance. No plug needed.
Lexus HEV utilize innovative, proprietary hybrid technologies to combine petrol engine power and electric motor power to deliver a perfectly balanced drive without ever needing to be plugged in to recharge the battery. Like the very best conductors, Lexus HEV orchestrate peak performance from two power sources while also dramatically boosting fuel-efficiency and extending cruising range.
Revolutionary
hybrid technology.
Experience an unparalleled driving experience with Lexus hybrid technology. By blending responsive performance with less environmental impact and a quiet cabin; you can drive farther with on-demand acceleration in comfort. Feel the power of perfection in every drive.
For the LS500h and LC500h, our innovative Multi Stage Hybrid System – a world-first in hybrid technology – builds upon our proven technology by amping up the responsiveness and low-end torque to transform your drive into a masterpiece of adrenaline and emotion.
LEXUS Hybrid
Electric Vehicle's
4 Key Selling Points
4KSP
Awaken your driving passion.
Discover how the benefits of "The Power of h"
can fuse into your lifestyle.
Vehicle shown for presentation purpose only and may not reflect Middle East region-specific specification availability.
RX
16.

3
Km/L

*
RX L
16.

1
Km/L

*
Vehicle shown for presentation purpose only and may not reflect Middle East region-specific specification availability.

* GSO rated fuel economy based on 2019 model year.
For people who like driving more than visiting gas stations,
the superior mileage of Lexus Hybrid Vehicles (HEV) gives you staggering range.
Lexus HEV also self-charge the battery, eliminating the need to plug them in.
Unlike gasoline-only engines, a Lexus HEV doesn't idle the engine while standing still, so it uses no fuel. During vehicle deceleration, the gasoline engine output is cut until it is needed again at higher speeds. When decelerating or braking, Lexus HEV turn braking friction into energy and stores it in the battery for later use.
Smoothness
Lexus Hybrid Electric Vehicles (HEV) deliver seamless driving without hesitation.
From the moment of start-off, smooth, swift acceleration is achieved through on-demand electric motor power.
No matter the driving preference, drivers can pilot with confidence as the vehicle responds to commands effortlessly.
To elevate the driving experience, Lexus Hybrid Electric Vehicles (HEV) utilize electric motor power up to cruising speed where petrol power kicks in; working together to bring out the smoothest performance in acceleration.
Drivers can enjoy a linear acceleration feeling through the Lexus HEV advanced power control. By increasing the petrol engine speed (RPM) with the vehicle's speed, acceleration is graceful and intentional.

* Vehicle shown for presentation purpose only and may not reflect Middle East region-specific specification availability.
Quietness
Every Lexus strives for the ultimate in quietness with ample use of vibration dampening materials and noise silencing insulation.
Lexus HEV take this further with an almost silent cabin by only using electric motor power when starting off or coasting.
By utilizing vibration dampening materials in areas such as the floor, headliner and trunk; all Lexus models strive to reduce road vibrations and noise from your drive. Underfloor coatings and acoustic glass ensures all occupants are undisturbed during the journey. From the body frame to the multi-layer insulation in the cabin, Lexus vehicles are built to ensure a peaceful cabin on any road surface.
A heightened level of quietness can easily be confirmed in a Lexus HEV from the moment of start off. Experience on-demand power in a hushed environment when utilizing electric-only power. At cruising speeds, both electric motor and petrol engine provide power to take you anywhere you want to go with quietness in mind. Enjoy conversing in your own personal quiet space, isolated from noise and sounds from the outside.
Driving exclusively on electric motor power (EV mode) helps fight noise pollution not only on the inside, but also outside to create a serine environment for everyone.
Ecology
Going farther with less impact never looked this good.
Lexus Hybrid Electric Vehicles (HEV) have impressive performance with a smaller footprint on the environment by using less petrol;
giving owners peace of mind and pride of ownership.

Lexus HEV are constantly in pursuit of innovative ways to achieve the goal of zero emissions. By utilizing the latest in hybrid technology, more power and efficiency is be harnessed through the use of electric motor power with reduced environmental impact. Compared to conventional petrol-fueled vehicles, Lexus HEVs produce less emissions without sacrificing driving excitement.

Our motivation for a cleaner world goes beyond the road, we carry this drive in all areas of our business without compromise.
A World-First
in Hybrid Technology
When technology doesn't just work, but truly amazes.
Lexus Hybrid offers an intuitive driving experience, so connected - you'll forget you're in a hybrid.
Step inside an LS500h or LC500h with Multi Stage Hybrid System and experience how "The Power of h" can stir your soul with heart-pounding performance.
Multi Stage Hybrid
Multi Stage Hybrid System -available for the LS500h and LC500h- delivers a new level of driving exhilaration through direct and on-demand acceleration response.
This innovative performance hybrid system allows the driver to enjoy not only the sensation of a spirited drive by delivering strong acceleration, but also smart power efficiency when driving at a relaxed pace. The Multi Stage Hybrid System is not just an advanced hybrid system, it is a new expression of raw driving emotion and a shift in hybrid performance.
Multi Stage Hybrid System was created from the desire to push the limits beyond the Lexus hybrid system. The Multi Stage Hybrid System lets you set the tone of your drive by utilizing an advanced, mechanical 4-speed shift mechanism with an Electronic Continuously Variable Transmission (E-CVT) that simulates a 10-speed automatic transmission- ensuring a smooth, direct-shift feeling in any situation. Feel the satisfaction of downshifting in the corners and upshifting on long straights with blissful precision.
Powertrain shift control manages electric and petrol power by prioritizing electric motor power output, and suppressing petrol engine workload. This can effect overall powertrain efficiency but allows the engine to instantly respond when sudden acceleration is demanded. Multi Stage Hybrid System ensures a direct connection from the driver's intentions to the vehicle's reaction.

With unprecedented performance and control, you can customize any driving experience desire with the push of the accelerator pedal.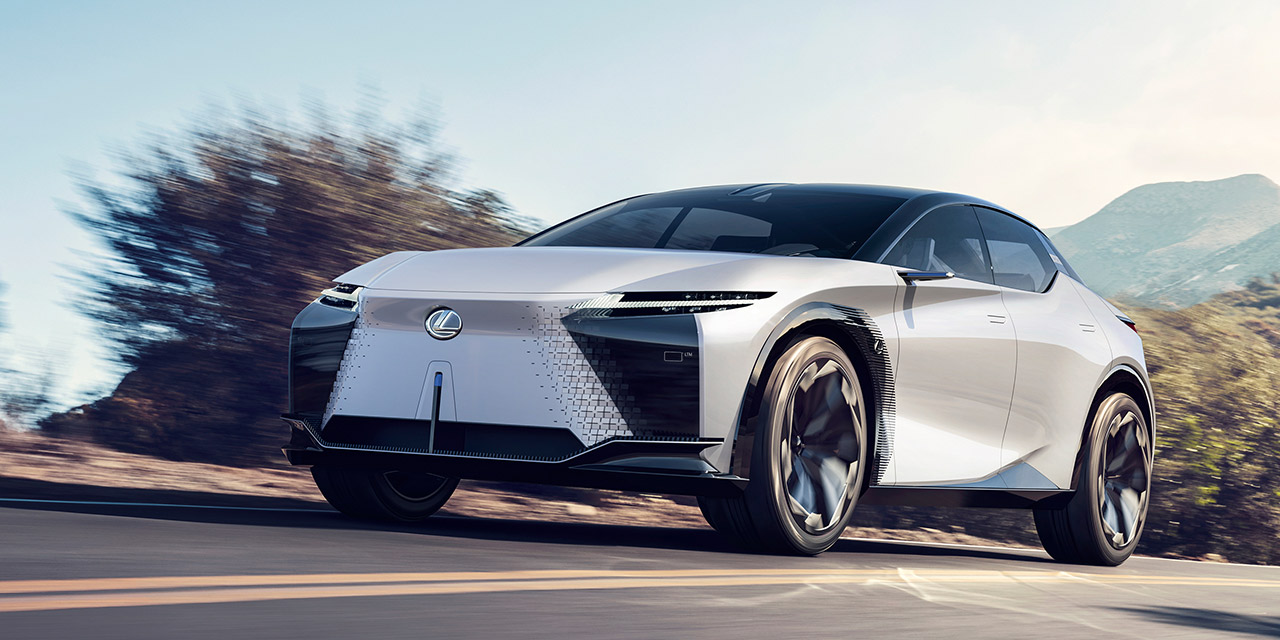 LF-Z ELECTRIFIED CONCEPT
Envision a future focused on the human-centered experience. A future inspired by the philosophy that machines are an extension of our intent. The LF-Z Electrified Concept is a vision of Lexus like no other.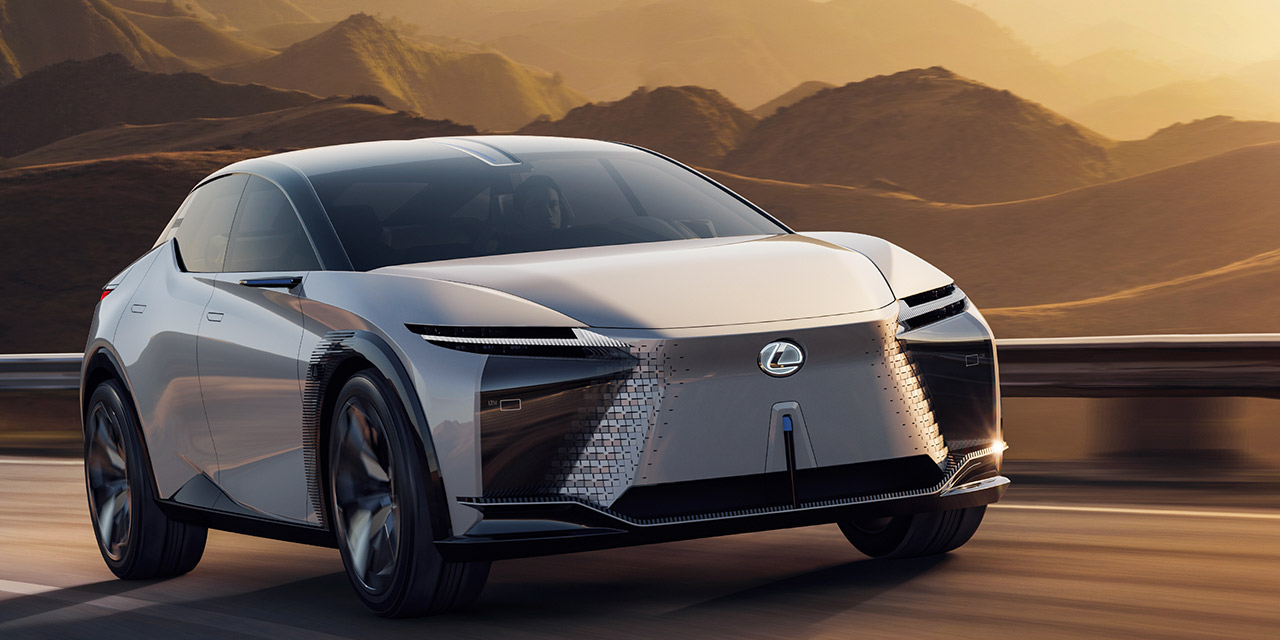 THE FIRST OF ITS KIND
For those looking forward to the future of mobility, the feeling is electric. It's not just an evolution of green thinking – it's the realization of a new tomorrow. Discover the first Lexus to use an all-new electric platform, and driven by an amazing dream to be even more intuitively responsive to a drivers' needs. Get ready for a game changing performance.