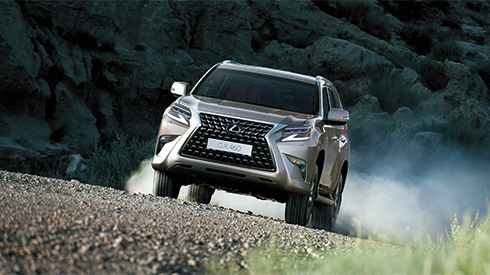 Dynamic SUV Design
Combining futuristic design cues with formidable off-road strength, the stunning GX460 offers all the classic space of a large and powerful SUV. Exuding dynamism and making full use of an impressive wheelbase, its commanding yet reassuring profile gives a very resolute impression. Viewed from the front, the dynamic low-set 'spindle grille' with the three-dimensional form of the horizontal bars of the upper grille and the honeycomb of the lower grille emphasizes the bold robust stance. The distinctive low beam LED headlamps and iconic L-shaped LED DRL (Daytime Running Lamp) provide a refined touch. From the side, the vehicle's lines and side protection moldings add a wedged and streamlined aspect, again hinting at its athletic and versatile capability, underscored by beautiful 18-inch alloy wheels. At the rear, LED lamp clusters round off the GX460's exquisite Lexus styling, while the back door also features a practical, lifting glass hatch.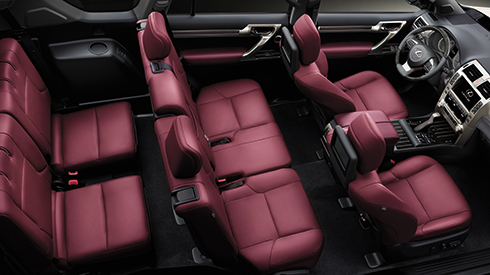 First Class Luxury
The GX460 is a study in contrasts. Outside, the impression is of strength, ruggedness and resolve. Inside, the seven-seat leather luxury and sumptuous cabin are designed to anticipate and answer your every need. Take, for instance, the advanced air conditioning. As the driver and passengers may have different heating or cooling requirements, the GX460 has three completely separate climate control zones (driver, front passenger & rear). For the ultimate in entertainment, the GX460 is available with the very latest 17-speaker Mark Levinson Premium Surround Sound System (Optional). On longer journeys, passengers, particularly children, will enjoy using the GX460's rear seat entertainment system (Optional), with screens integrated in the back of the front seat headrests that can each display a different film or video game.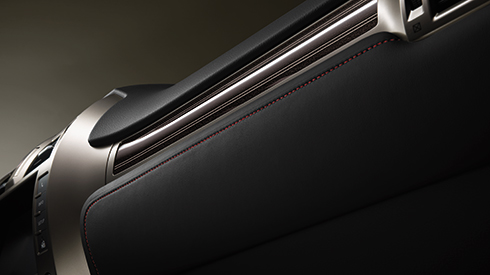 Exquisite Quality
The GX460 provides a showcase for the talents of some of the world's finest craftspeople. Inside, for example, the storage compartments glide silently open with a movement inspired by traditional Japanese sliding doors. The wood inlays have a deeply polished sheen. Outside, every GX460 has a flawless paint finish—the result of a special partnership between advanced paint-shop robots and experienced hands, in which it is also checked by eye as well as digitally to help ensure the perfect finish.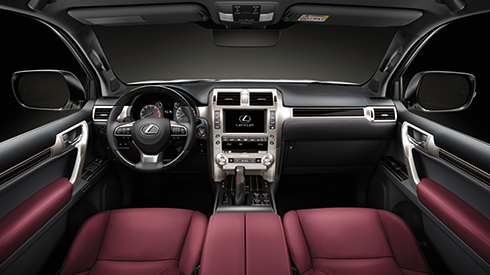 Absolute Tranquility
The peace and tranquility of the GX460's interior set an entirely new benchmark for luxury SUVs. Numerous measures were taken to help reduce noise and vibration to a minimum, beginning with the advanced 'Body on Frame' construction which incorporates sophisticated dampers to absorb vibration. The engine mounts also absorb a significant amount of vibration. Because SUV engines can also create substantial noise, Lexus engineers focused on minimizing friction and enhancing the rotational balance of the engine, as well as using an insulated engine cover to further mute extraneous sound. Noise ingress to the cabin is further dampened by the widespread use of special sound-insulating materials, including high-specification laminated glass.