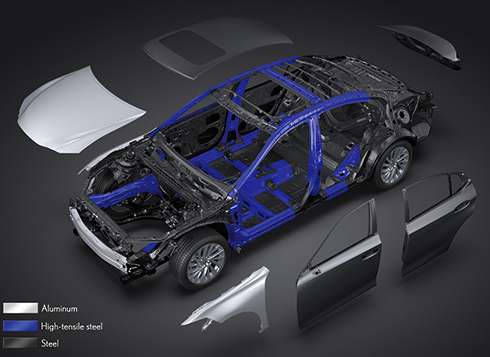 Multi material body
The ring-shaped body structure helps to reduce body torsion. A V-shaped brace behind the rear seats contributes to coupling rigidity for excellent stability. In addition, body rigidity is enhanced by the extensive use of advanced technologies including laser screw welding and structural body adhesives. Optimizing the use of hot-stamp and high-tensile steel in key body components also reduces weight while contributing to excellent collision safety.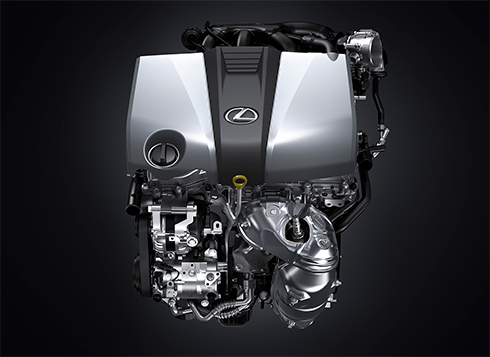 3.5-liter V6 engine
Delivering a sophisticated blend of exciting performance and environmental friendliness, Dual VVT-i (Intake side: VVT-iW) contributes to high torque across the rpm range. In addition, the integration of advanced technologies such as D-4S which injects fuel directly into the cylinders at high pressure while optimizing selection of cylinder and intake port injection, further contribute to fuel efficiency.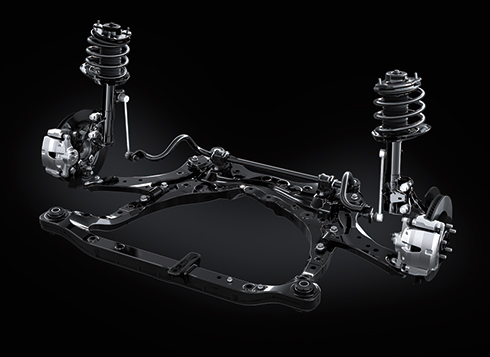 Suspension
The geometry of the newly-developed McPherson strut front suspension was optimized to realize excellent steering response and turning stance, together with premium ride comfort. The arm positions on the trailing-arm double-wishbone rear suspension were optimized to smoothly handle uneven road surfaces, providing an excellent blend of handling stability and ride comfort. In addition, the shock absorbers on both the front and rear suspension incorporate swing-valve shock absorbers that respond to even minuscule movements, to provide an exceptionally flat feel when starting up, as well as excellent straight-line stability when driving at speed.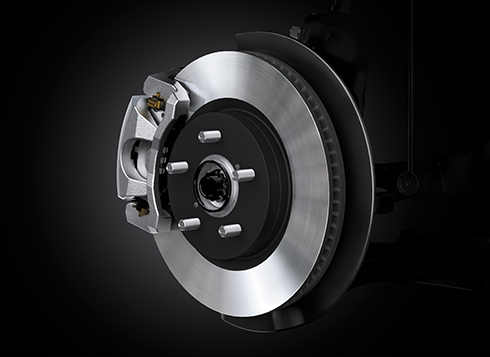 Brakes
Engineered for excellent braking force, control and response, the brakes provide intuitive response to the driver's input, feeding driving pleasure by supporting exciting driving with peace of mind. In addition, the ES is equipped with an electric parking brake, further enhancing easy operation and driving enjoyment.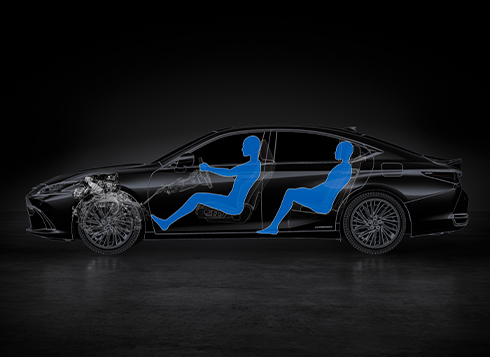 GA-K (Global Architecture-K) platform
Lexus developed a new platform for the ES from scratch to create the foundation for excellence in core criteria, including design, dynamic performance, ride quality, quietness, and safety. For dynamic performance, the location and angle of the steering wheel and pedals were reviewed to create a posture that supports easy driving. To augment the vehicle's excellent DNA with its a low center of gravity and uniform lateral weight distribution, the geometry of the high-rigidity body and chassis were optimized to deliver excellent straight-line driving stability, stable cornering, and braking stability.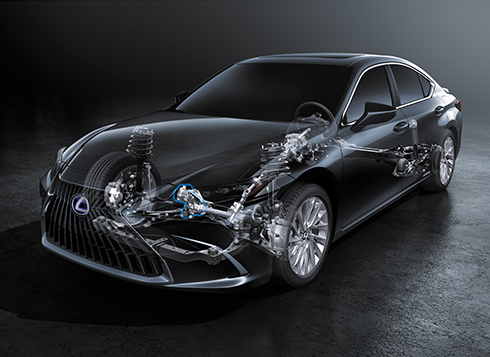 EPS (Electric Power Steering)
The parallel rack electric power steering system provides crisp, clean response as soon as you start turning the steering wheel. A newly-developed steering column offers enhanced rigidity and excellent steering feel.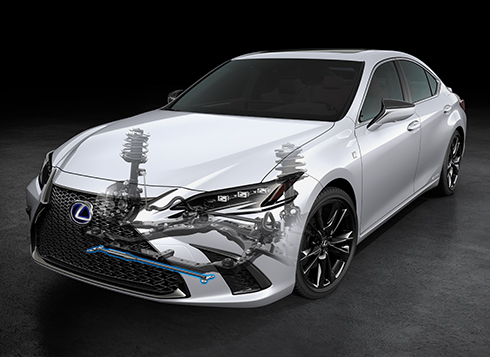 Performance dampers
Performance dampers in the front and rear boost the feeling of unity between car and driver. The dampers quickly absorb body flex and minuscule vibrations while driving to sharpen handling characteristics and contribute to the excellent ride comfort and quietness.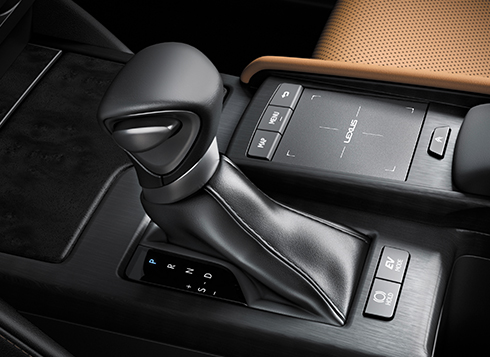 Direct Shift-8AT
The newly-developed Direct Shift-8AT delivers both exciting performance with direct response and outstanding fuel efficiency. The 8-speed configuration provides a 20% wider gear ratio, contributing to powerful acceleration and quiet, smooth performance during high-speed cruising, while enabling continuous operation in the engine's high-efficiency zone to significantly enhance fuel efficiency. In addition, maximizing use of the lock-up control delivers direct response that quickly responds to accelerator operation.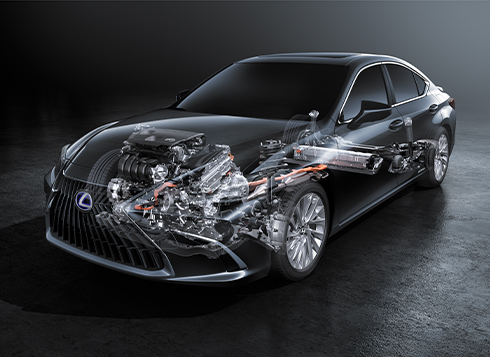 Hybrid System
The new hybrid system aims to transform people's image of hybrid performance even as it realizes exceptional fuel efficiency. By combining the excellent response of the 2.5-liter L4 engine with a compact, small lightweight battery and sophisticated control capabilities, it delivers a smooth natural acceleration feel, responding instantly to accelerator inputs.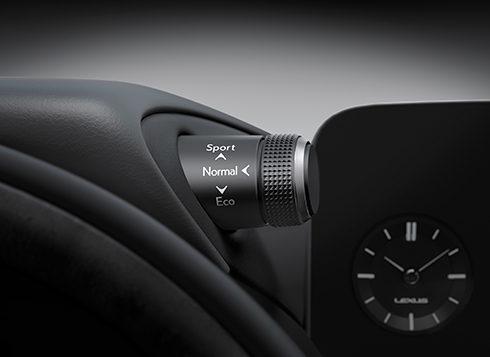 Drive mode select
Drive mode select provides integrated control of multiple systems to let you tune performance to suit your driving style. You can select and change between three modes: Eco, Normal, Sport.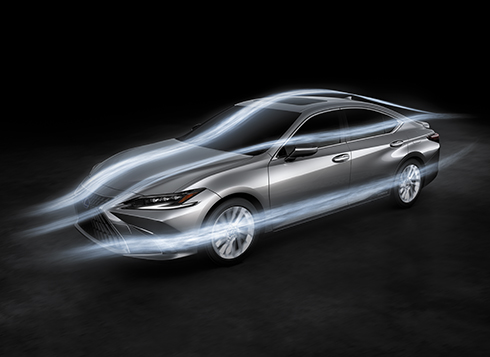 Aerodynamics
Aerodynamic performance is seamlessly integrated into the elegantly-shaped silhouette so that air flows from the rear seats to the trailing edge of the trunk. Fins on the underbody cover and rear combination lamps reduce air resistance, contributing to the quiet interior and excellent fuel efficiency. The controlled air flow also enhances driving stability.