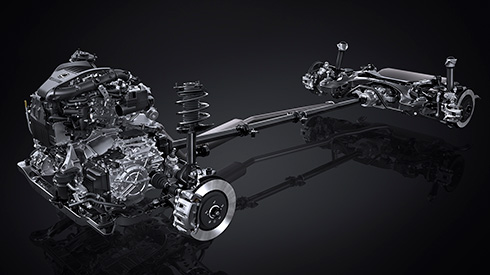 2.4L Turbo AWD/2.4L Turbo FF
The 2.4-litre inline 4-cylinder turbo engine revs pleasantly in response to accelerator input, providing outstanding acceleration response and ample driving power. Based on TNGA engine technology, it features a high-efficiency turbocharger, centre direct injection system, and variable cooling system. Utilizing the ample torque, it delivers powerful, dynamic performance together with excellent environmental performance and low fuel consumption.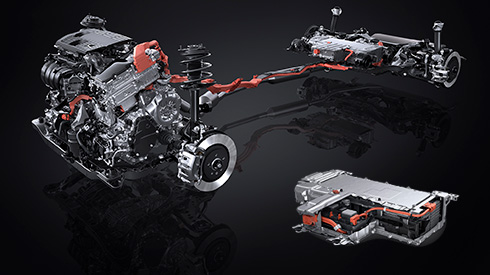 2.5L HEV E-Four / 2.5L HEV FF
The hybrid system combines a highly efficient and responsive 2.5-litre inline 4-cylinder engine and high-output motor. A high-level balance between smooth, direct driving performance and excellent fuel economy has been enabled by effectively combining a highly responsive engine, bipolar nickel-metal hydride battery with enhanced battery performance, and hybrid system control with revised drive force characteristics. On AWD models, E-Four, a motor-driven AWD system, uses various sensors to determine when drive force is needed in the rear, such as during start-up or normal driving, and precisely controls the front-rear torque distribution between 100:0 and 20:80. It efficiently uses the battery power to drive the front and rear motors, contributing to fuel economy as well as delivering excellent start-off and driving performance.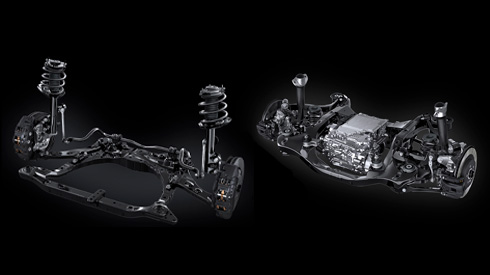 Suspension/Shock Absorbers
The MacPherson strut front suspension and multi-link rear suspension efficiently transmit drive force to the road surface, while enabling a smooth change in vehicle posture. Furthermore, changes in vehicle posture during start-up and acceleration, as well as vibration while driving were suppressed by optimizing the positioning of the shock absorber and bushing characteristics of the suspension member mount. The shock absorbers use swing valves to help dampen force from very low speed ranges. Linear solenoid-type AVS provides excellent dampening force response, enhancing linear driving performance and refining ride comfort at a high level. Adopting a hub bolt fastening construction enhances high axle rigidity and reduces unsprung weight, contributing to a crisp steering feel with clear feedback and high-quality ride comfort.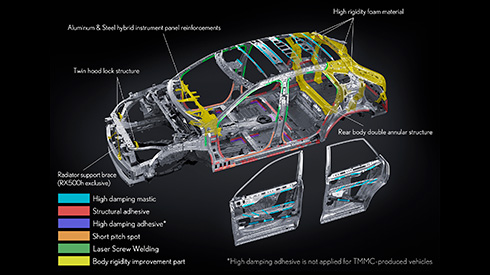 Body Rigidity
The rear section of the GA-K platform was specifically designed to accommodate the multi-link suspension. A rigid high-torsion rear body frame is used to firmly support suspension input during acceleration, deceleration and cornering. High-rigidity foam optimally positioned around the back door opening provides effective reinforcement while enabling a lightweight and highly rigid body. In addition, the mounting points for the rear suspension and the rear suspension member have been significantly reinforced. Short pitch welding, LSW (Laser Screw Welding) and structural adhesives were used to further boost joint strength.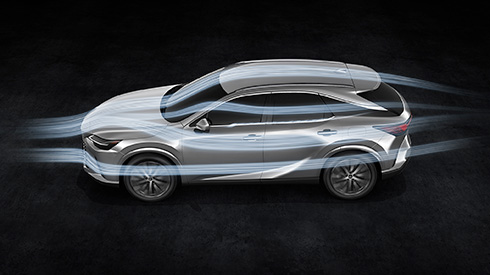 Aerodynamic Performance
Aerodynamic design optimizes airflow around the front, reducing the Cd (Coefficient of drag) value while providing excellent brake cooling performance. Under the vehicle, dimples in the engine undercover generate micro-vortices under the floor, enhancing the feeling of ground contact and high-speed stability. Minimizing the height differences between the door and the window surface efficiently suppresses airflow fluctuation, while the shape of the rear spoiler end and gate-shaped spoiler on the rear window help suppress turbulent airflow and enhance handling stability. On F SPORT and F SPORT Performance models, fins on the rear lower bumper help suppress turbulent airflow behind the rear tires, contributing to excellent straight-line stability at high speeds and inside winds.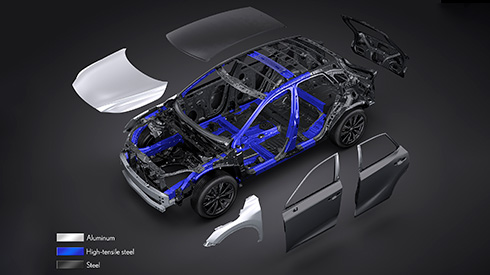 Lightweight Body
In addition to optimizing the materials used on the platform's main frame, the front fenders are made of aluminum and the centre pillars from hot-stamped 2GPa (gigapascal) material. This significantly reduces weight without compromising safety, as well as contributing to a lower centre of gravity and enhanced handling stability.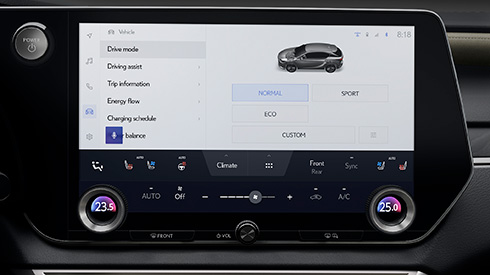 Drive Mode Select
Drive mode select provides integrated control of multiple systems, offering enhanced driving pleasure by allowing the driver to select drive modes to suit the situation and their preference using soft switches in the centre display.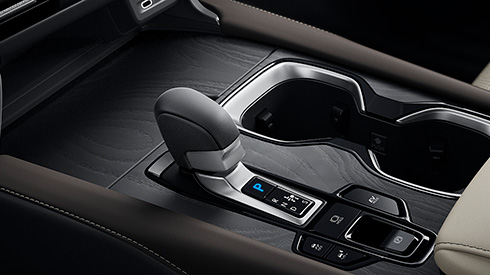 Advanced Driving Features
EPB (Electric Parking Brake): The parking brake is activated and deactivated by a simple switch operation. Brake hold: The brake hold system applies the brake so that the driver can take the foot off the brake pedal. Applicable when the system is activated, and the brake pedal has been depressed. Trail mode: Trail mode provides integrated control of the AWD, braking, and drive force to prevent the wheels from slipping when driving on slippery or uneven road surfaces. DAC (Downhill Assist Control): DAC is available on the RX350 AWD. The system helps to prevent excessive speed on steep downhill slopes. The system will operate when the vehicle is traveling under 30km/h with the accelerator and brake pedals released.