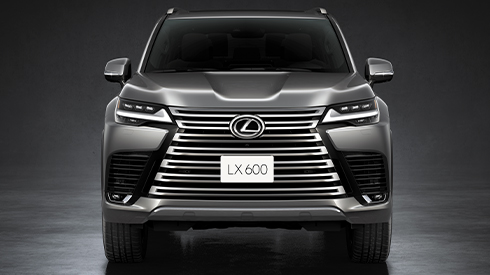 Grille and Engine Hood
In a bold expression of LX dynamism, the spindle grille has a three-dimensional shape with seven sets of floating bars that create a seamless, frame-free structure. Fine tuning the thickness of each bar to the millimeter achieves both a stylish look and the high-level cooling performance required by a twin-turbo engine. The side radiator grilles also have large openings for enhanced cooling performance and are shaped to provide a high-level rectifying effect.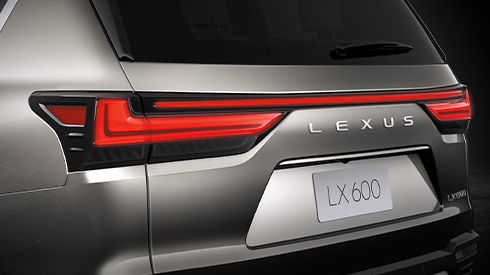 Full LED Rear Combination Lamps
The L-shaped rear combination lamps flow on a continuous axis from the front to the shoulders and into the rear silhouette, highlighting the sharp, inflected design consistent with the Lexus brand. The rear fog lamp is standard on all grades.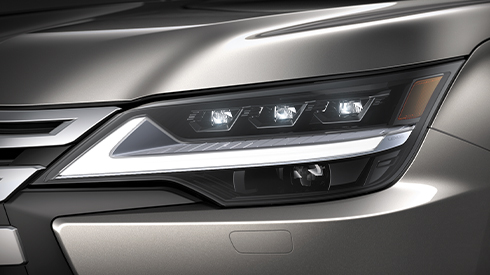 Full LED 3 Eye Projector Headlamps
The combination of thin, compact 3-eye projector LED headlamps and L-shaped DRL (Daytime Running Lamps) exudes power and aggression. The DRL lamps have evolved into a three-dimensional shape, and the inner lenses doubled, with each on a different level to project depth that changes with the viewing angle.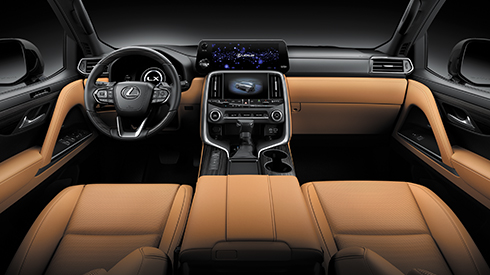 Interior Design
The LX incorporates the Tazuna Concept, a new cockpit concept that allows the driver to connect more intuitively with the vehicle and better concentrate on driving. A smooth line-of-sight that guides the eyes from the road ahead to the head up display, meter, and 12.3-inch touch display with the navigation screen. Driving switches such as Multi-terrain Select are positioned within easy reach in the center cluster, even when the driver is being pressed into the seatback on a steep uphill slope, with the air conditioning controls and other switches under the 7-inch touch display in a functional layout prioritized by ergonomics.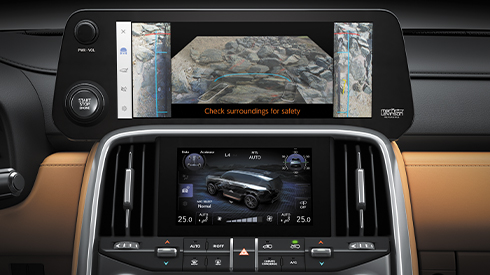 Dual Display
The instrument panel incorporates dual upper and lower touch displays, to simultaneously show necessary information on each display. For example, during on-road driving, the upper 12.3-inch touch display shows navigation on the full screen while the lower 7-inch touch display shows air conditioning information. During off-road driving, the 12.3-inch touch display shows the Multi terrain Monitor with road surface and other conditions, while the 7-inch touch display shows driving conditions such as vehicle height, vehicle inclinometer, and acceleration/braking pedal operation.