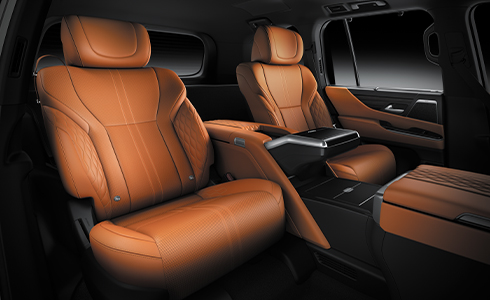 EXCLUSIVE VIP GRADE POWER REAR SEATS
The exclusive VIP grade rear seats feature concave cushions, seatbacks, and large headrests, providing a high level of hold against lateral loads when driving around curves. Soft urethane with superior vibration absorption performance in the seat cushion effectively suppresses unpleasant vibrations even during off-road driving. The unique quilting exclusive to the VIP grade expresses high-quality.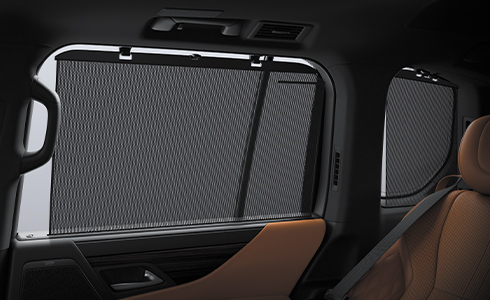 SUNSHADES REAR WINDOWS MANUAL
For extra privacy, sunshades block outside light coming through the windows when you're relaxing in the neutral body posture advocated by NASA. You can change the way you use the rear-seat space depending on your mood, closing the sunshades to close out the outside world when you want to concentrate on work, or opening them to enjoy the scenery.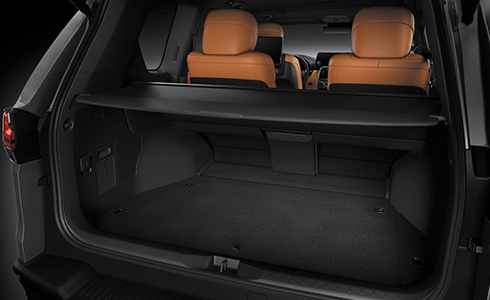 SEPARATOR : LUGGAGE SPACE
A separator provides privacy in the rear seats. In addition to preventing the interior from being seen from the luggage space, it prevents direct exposure to hot or cold outside air. The lower edge of the separator is anchored to the rear seat so that it moves with the seat when it's reclined. Placing the seat in an upright position creates space underneath the seat that can be used for luggage.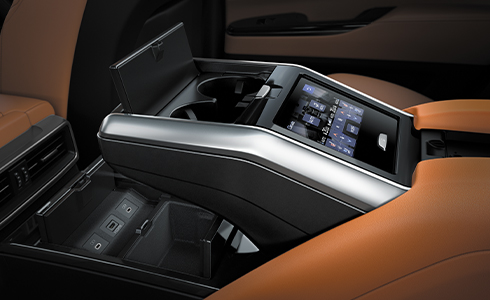 CONVENIENT REAR CONSOLE FUNCTIONALITY
A rear console with wireless charger, operational touch panels, table with 2 integrated cupholders, small storage space with 2 USB Type C charging ports, HDMI port, etc. It also contains a console box with 2 headphone jacks, 2 USB Type C charging ports, DC12V, and room for a blanket.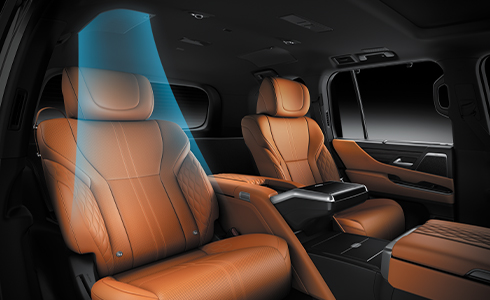 SHOWER AIR CONDITIONER & AIR CURTAIN
The air conditioner keeps occupants comfortable even under a blazing sun or in extreme cold. In summer, after cooling the cabin with cool air from the ceiling side registers, manually adjust the air volume and angle of the registers to your preference and turn on the shower air conditioner to diffuse a breeze from above to maintain comfort that envelops the whole body while keeping the cabin from getting too cold.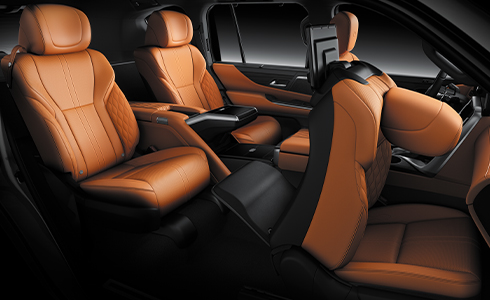 REAR RIGHT SEAT 48 DEGREES RECLINE ANGLE
The VIP grade focused on enabling occupants to relax enough to sleep, even while driving off-road. With a single touch of the relax mode switch, the passenger seat slides forward to enable the rear seat to recline up to an optimal 41 degrees. In addition, the display folds down to expand forward visibility and the ottoman deploys, creating an open and relaxing space with a maximum leg room of 1,100mm, to provide a stress-free posture from head to toe.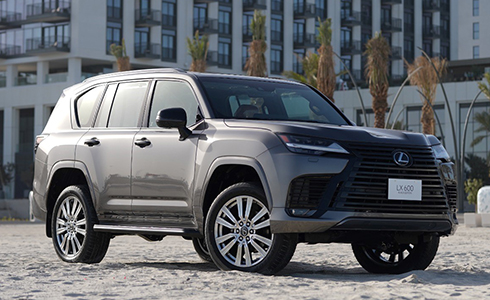 Exclusive VIP Black Edition
For those who thrive on exclusivity, the LX VIP Black Edition expresses unique sophistication. Complementing the black grille, the muscular model features stunning black door handles, black roof rails and rear-view mirrors. Revel in the most astute attention to detail.