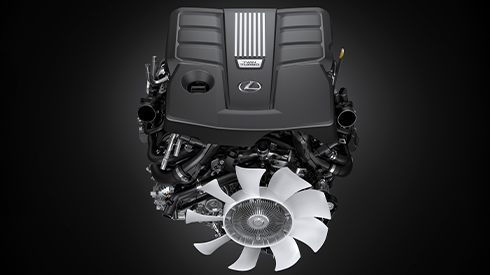 3.5 Liter V6 Twin Turbo Engine
The 3.5 liter V6 twin-turbo gasoline engine delivers maximum output of 409HP (415PS) and maximum torque of 650Nm. D-4ST (Direct injection 4 stroke gasoline engine Superior version with Turbo) with multi-hole direct-injection injectors, together with a long stroke, high-speed-combustion made possible by optimizing the valve pinching angle, and high-efficiency twin turbochargers, produces powerful low-speed torque and excellent boost response. The highly-efficiency twin turbocharger offers wide and flat torque characteristics that delivers boost from low speed, realizing strong and easily-controllable power for both on road and off road driving.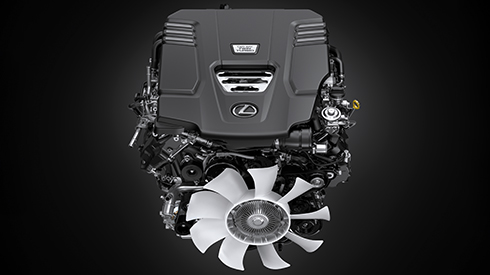 3.3 Liter V6 Diesel Engine
The 3.3 liter two-way, twin turbo diesel engine is a dedicated design with optimal tuning of the components for driving in tough off-road conditions. A two-way turbo system generates excellent turbocharging performance in various situations by switching to single turbo mode to provide powerful acceleration in the low-speed range, and twin turbo mode to provide continuous acceleration in the high-speed range. Low flow combustion technology contributes to both powerful driving and environmental performance.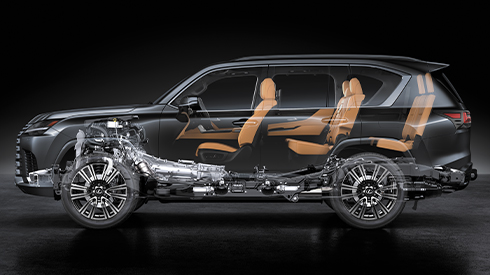 Direct Shift 10AT
To realize a more direct response, lockup is activated in almost all speed ranges except when starting. By adopting a 10-speed transmission, the gear steps have been crossed and the overall gear ratios widened to produce a cadenced and comfortable driving rhythm, as well as enhanced high-speed fuel economy, starting acceleration and off-road performance. In addition, both the gasoline and diesel engines feature optimized drive force characteristics and gear shift timing.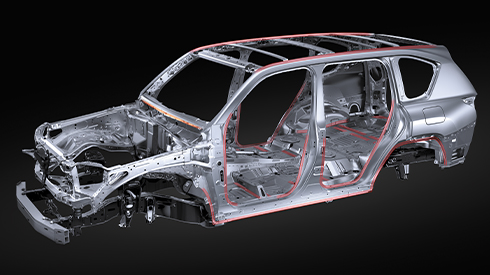 Chassis
Based on computer analysis of body deformation behavior in response to steering inputs, torsional deformation was suppressed by increasing the number of spot weld points and optimizing the placement of structural adhesives around the door openings and on the floor to realize superior body rigidity. This not only enhances off-road performance, but also steering responsiveness and feedback, rear grip feel and the excellent ride comfort, contributing to premium ride comfort befitting a Lexus.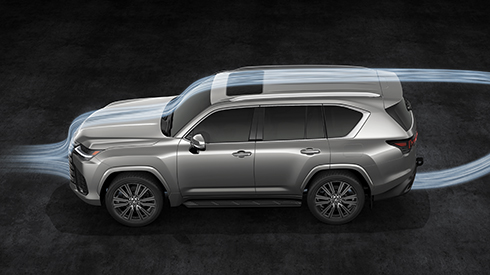 Aerodynamics
A range of features to regulate airflow over, around and under the body, enhance aerodynamic performance and contribute to the excellent fuel economy and handling stability. They include front spats, front fender liners, aero stabilizing fins on the door frame covers and rear combination lamps and shaping of the inner rear mudguard. In addition, shutters in the upper grille open and close automatically to enhance both aerodynamic and engine cooling performance. While warming up and driving, when the airflow required for cooling the engine is excessive, the shutters close to optimize the amount of air flowing into the grille.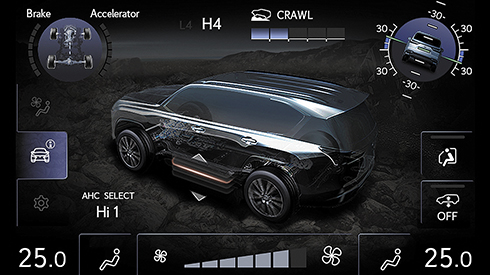 Active Height Control (AHC)
In response to the driving environment, AHC automatically adjusts the optimal vehicle height based on drive mode select, Multi terrain Select, and transfer selection status to one of four height positions-Normal, High 1, High 2, and Low, for getting into or out of the vehicle. AHC also responds to changes in vehicle posture such as the amount of pitch and roll, and optimizes the spring rate to stabilize vehicle posture during turning, acceleration, and deceleration when braking.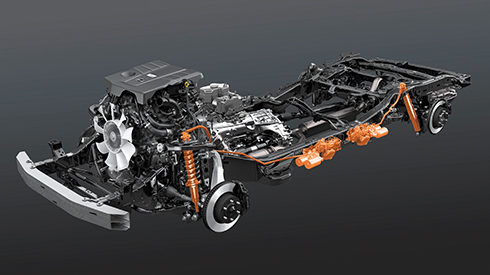 Adaptive Variable Suspension
AVS features a linear solenoid valve system that realizes excellent damping force switching response, contributing to smooth, fine-grained control on different road surfaces and driving conditions. Damping force is set low to provide excellent ride comfort when driving over bumpy city roads, and increases to give a flat stable ride when turning. Also, the damping force changes with the drive mode selected, contributing to driving in line with the driver's preference.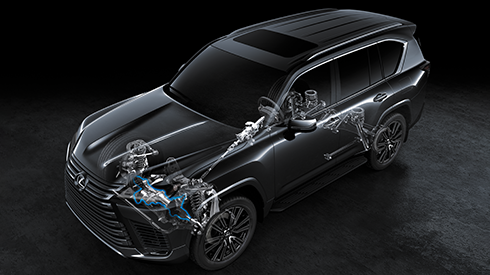 ELECTRIC POWER STEERING
With EPS, the LX responds linearly from the start of steering operation. At low speeds, such as off-road driving, the light steering feel contributes to reducing the burden on the driver. At high speeds, a moderate steering force in line with the vehicle's speed provides a driving experience faithful to the driver's intentions, and a responsive steering feel that is distinctively Lexus.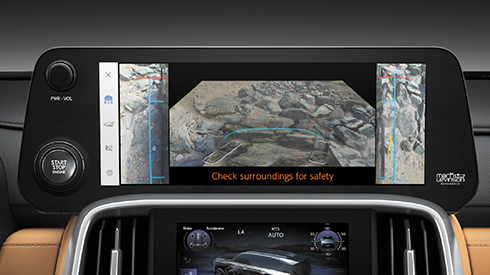 Multi Terrain Monitor
The system supports the driver by using four cameras to show conditions around the vehicle. Images from the front, left, right, and rear cameras can be selected using a camera switch and viewed full-screen on the 12.3-inch touch display, allowing the driver to check road conditions around the vehicle which are often in blind spots. By composing camera images that match the vehicle's height while driving off-road, it provides the driver with a clearer picture of the surrounding environment and peace of mind.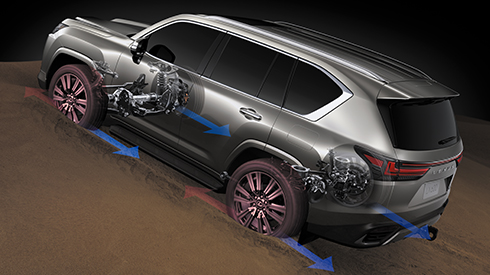 Crawl Control & Downhill Assist Control
When driving in rough off-road conditions or on slippery roads, Crawl Control enables driving at extremely low speeds by allowing the driver to simply steer without operating the accelerator and brake pedals. When descending steep hills where engine braking alone is not sufficient to slow the vehicle, at the flick of a switch the system automatically controls the brakes on all four wheels to support stable descent without locking the wheels.