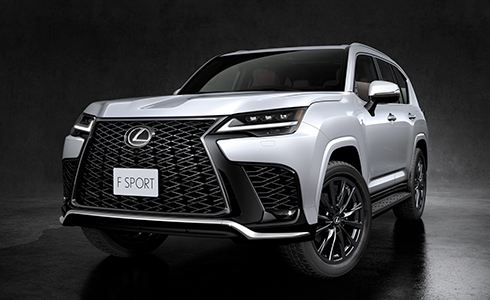 EXCLUSIVE F SPORT EXTERIOR DESIGN
The lowered front end of the F SPORT instantly projects a powerful sporting presence, highlighting exclusive design features that include the F mesh spindle grille with jet-black plated frame designed to enhance cooling performance, F-mesh pattern in the rear lower bumper, dynamic 22-inch forged aluminum wheels, and unique color finish that exude F SPORT toughness.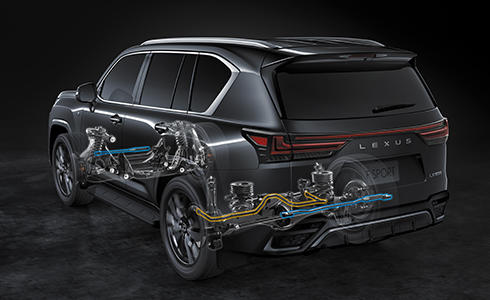 EXCLUSIVE F SPORT PERFORMANCE
The bold F SPORT styling is brought to life in exhilarating driving performance through a host of exclusive performance enhancements. They include front and rear performance dampers, a rear stabilizer, and Torsen LSD (Limited Slip Differential) which optimally distributes drive force in response to the load on the rear left and right wheels, enhancing rear tire traction when accelerating in a turn. Dedicated tuning of the EPS and AVS further sharpens handling stability especially in on road driving, together with the lively sporty response that is a unique F SPORT characteristic.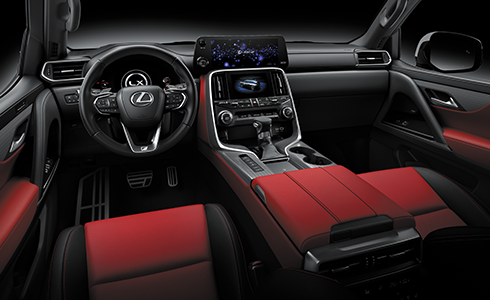 EXCLUSIVE F SPORT INTERIOR DESIGN
The dramatic Flare Red and black F SPORT interior, complemented by Hadori aluminum ornamentation inspired by the temper pattern of Japanese swords for the trim, sets the scene for sports driving exhilaration. A focus on exclusive sporting control inspired the enhanced side supports and firm seat cushions of the front seats to maintain a stable driving posture during turns, the use of dimpled genuine leather on the steering wheel and shift lever knob to enhance grip, and honed functionality of aluminum pedals and footrest. It is reinforced by F SPORT emblems in the headrests, steering wheel and scuff plates.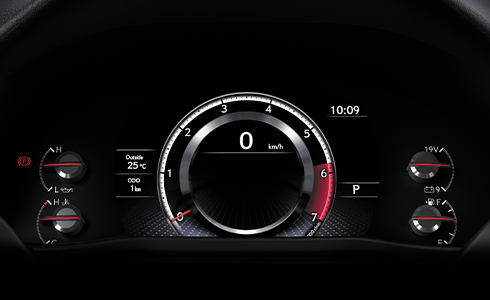 EXCLUSIVE F SPORT METERS
The high definition 8 inch CG meter features a chrome ring effect that is reinforced by the satin-plated finish of the four analog needle gauges. The unified red illumination of the needles and meter readouts contrasts with the dark colors of the meter dials, heightening sports driving pleasure.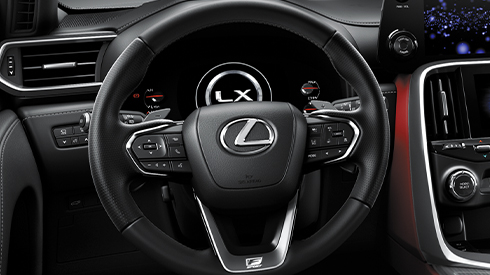 EXCLUSIVE F STEERING WHEEL
The steering wheel profile designed to provide exceptional control, and the shift lever knob, are further refined by the exclusive use of F SPORT dimpled genuine leather to enhance grip, boosting the sporty design and sharpening sports control.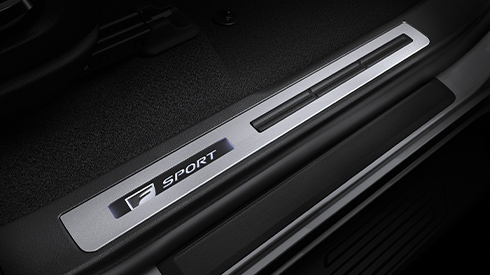 EXCLUSIVE F SPORT SCUFF PLATE
The subtle F Sport emblem embossed in the stainless-steel scuff plates is an inviting reminder of F Sport exclusivity every time you open the door.